This is your chance to work ONE ON ONE with one of our AWESOME Coaches!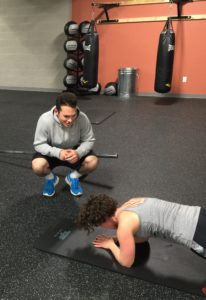 Maybe you have been coming for a while and want to work on something specific like Olympic Weightlifting, Powerlifting, Obstacle Course Racing, or Running? Or maybe you want focus on a movement that is tough to master?
We will spend 30 minutes cleaning up your form, teaching assistance moves, and making you more AWESOME! From there, you will get a two-week plan to follow on your own and practice what you learned!
Or maybe you feel like group training is not a great fit for you, or want individual attention and a specific plan for your goals, you may want to try some One on One sessions with one of the coaches.  We will meet you where you are at and help you achieve your goals!
We have two options available for our One-on-One Personal Training:
Limited
Individualized Program Design written specifically for you.
Unlimited Private coaching sessions a week working on your specific goals.
Unlimited Group Conditioning
Fitness Program Design
Access to "WOW" Workout
Unlimited
Individualized Program Design written specifically for you.
1 Private coaching session a week working on your specific goals.
Unlimited Group Conditioning
Fitness Program Design
Access to "WOW" Workout