Group Conditioning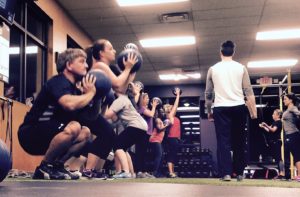 Our Group Conditioning is a high octane, ass kicking, performance based symphony of movement! You will burn fat, build strength, gain confidence, look and feel better! We will be the best, brightest, and most challenging part of your day!!
The unique structure of our groups allows you to maximize the benefit of your program and take full advantage of our expert training staff. Each workout is designed to increase your functional strength, reduce injuries, and boost your metabolism. This is THE best fat loss workout available!
*Individuals with significant health or orthopedic issues will remain Semi Private personal training clients. Clients must score 2 or higher on the Functional Movement Screen prior to attending otherwise they will attend Semi Private Personal Training.
Basic Conditioning
Unlimited access to our high-energy Group Training Sessions. These include our:

Cardio Power classes are our version of cardio. These workouts will get your heart rate up and keep you moving.
Boxing Bootcamp will have you knocking out your stress and helping with technique, coordination, balance, speed and strength. This class is tailored for everyone from beginners to experts!
Strength Revolution will have you working up a sweat on the bike and then jumping off for some strength-training.

Customized Fitness Program Design
Access to the "Workout of the Week"
Unlimited Gym Access
Boxing Bootcamp
Knock out your stress in our Boxing Bootcamp! If you are interested in gaining techunique, coordination, balance, speed and strength, this is the class for YOU! Do you want to learn how to throw a proper punch? Work on agility? Get your heart rate pumping? Beat out your stress? You don't have to hit hard, just work hard. This class is tailored for everyone from beginners to experts!
Strength Revolution
A cycling workout like no other! Strength Revolution uses high intensity sprint intervals and hill complexes to work up a sweat, then has you jumping off for some strength-training, before heading back to the bike yet again. This workout is a great marriage of cardio and strength training to push you to new levels of fitness!
Cardio Power
Ready for a heart pounding workout experience? Then welcome to Cardio Power! These workouts will push you for a set period of time and then have you recovering back down only to be pushed back up again. If you compare you metabolism to a car, think about how you get better gas mileage on the highway (i.e. running on the treadmill for 45 minutes). But in town with all the stop and go driving, your cars MPG is not as good. It takes more gas to get back up to speed again after coming to a stop. The same happens with out metabolism, you body adapts very quickly and is able to perform that 45 minute jog without burning a lot of calories. This workout will ensure that you DO NOT get good miles per gallon!