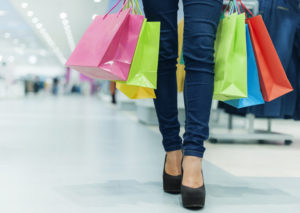 Another depressing trip to the mall?
An afternoon shopping spree used to be one of your favorite indulgences. Now it has become a dreaded chore. You like having nice clothes, but lately it just seems like nothing ever fits quite right and you end up leaving feeling horrible. You know that getting back to a regular fitness routine will get your clothes fitting the way they used to, but where do you start?
You could try yet another diet, but are you really going to count points for the rest of your life. You could join a gym, but everyone there is already in shape and there will be that "mean girls" club of fit "regulars" who flaunt themselves and judge everyone else by appearance and performance. Plus, what would you do? There are those new kettlebell thingy's you could try, but they look dangerous. The treadmill is boring and cycling makes your butt hurt for days. You want to make a change but where do you turn?
Why not hire a coach that will be in your corner? Not all gyms are your stereotypical gym with the barely dressed fit people. There ARE nutrition plans that are sustainable. There ARE gyms out there that will make you feel comfortable, provide you with guidance and within a few weeks will have you feeling better about yourself than you have in years.
That type of place is Pittsburgh North Fitness. There are no judgments here. PNF has coaches here to guide you each step of the way, and will provide you with sustainable healthy eating habits for life.
Let us help you change your life!
http://pittsburghnorthfitness.com/wp-content/uploads/2016/11/shutterstock_126762269.jpg
4032
5688
Josh Proch
http://pittsburghnorthfitness.com/wp-content/uploads/2016/09/Pittsburgh-North-Fitness-logo.png
Josh Proch
2016-11-29 14:59:32
2016-11-29 15:01:57
Another Depressing Trip To The Mall?